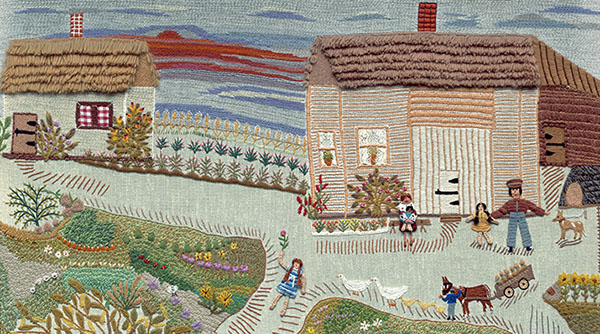 Dear Friends,
It's said that home is where the heart is. When a Nazi deportation order forced Esther Nisenthal Krinitz and her family to leave their home in Mniszek, Poland for good, she lost nearly everything and everyone she loved. By telling her story and depicting it as exquisite works of art, Esther not only held on to the feeling of home, and the love and security that were a part of it, but she generously shared it with our family, the family she created – and eventually with the world.

That image of home took on added meaning this year as Esther's art and story traveled to the very places in Poland that she once called home. This October, exactly 73 years after Esther left her home, we presented the exhibit and screenings of our film, Through the Eye of the Needle, in the cities and towns near where she once lived and which she remembered with such longing.
For us and for our Polish viewers, it was an emotional experience, evoking both the presence and absence of that lost world of Jewish life.
With your support, we can continue to share Esther's artwork in the U.S. and abroad. In addition to Poland, Esther's artwork—both the original textiles and the photographic images—along with our film were presented this past year in Nebraska, Ohio, California, Vermont, Virginia, and in another homecoming of a sort, at the Brooklyn Museum.
Also with your support, we began the conservation work necessary to protect the fragile textiles and ensure they can be seen by future generations. Your continuing generosity will help see this essential preservation effort through to completion.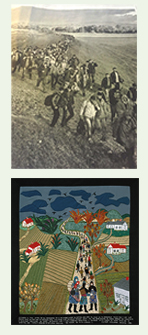 Finally, the theme of home resonates as we see how Esther's art and story connect to today's stories of hope, perseverance and tragedy among the refugees who have lost their homes to war and violence and are searching for safety for their families.
Through our HeART and Story workshop program, we have helped immigrants, as well as at-risk youths and others, to give voice and image to their stories. For the last several years, we have used Esther's art and story to inspire people to create storycloths and tell their own stories of leaving their home countries and finding hope in a new home in America.
Most recently, we brought HeART and Story to Santa Fe, NM in partnership with the Museum of International Folk Art and Santa Fe Community College. Workshop participants were inspired to tell stories they had never shared before. As a participant in an earlier workshop said, after telling her difficult and moving story of leaving her children behind to come to America in search of a better life: "Telling my story for the first time, it has unlocked my heart."
Across the U.S., we have an important opportunity in coming years to welcome immigrants to their new homes, where HeART and Story can play a key role in introducing them to their new communities. With your support, we will continue to give voice to our new neighbors, weaving a Holocaust story into the fabric of the present day.
When Esther created her work, she was thinking only of passing on her memories to her children and grandchildren. But her legacy is for the world, for all peoples and for all time.
Please help us ensure that Esther's legacy endures by making a contribution today.
Bernice Steinhardt, President
Helene McQuade, Vice President
Rachel Peric, Secretary
Simon Steinhardt, Board Member
Make your tax-deductible gift to Art and Remembrance

To Donate By Check
Please download and print the mail-in donation form.
To Donate Stocks or Bonds
Please download and print the stock donation form.
Photo of Syrian refugees © International New York Times
Art & Remembrance is incorporated in the State of Maryland. A copy of the current financial statement of Art and Remembrance, Inc. is available by writing to Art and Remembrance, 5614 Connecticut Avenue, NW, #131, Washington, DC 20015-2604 or by calling (301) 654-7286. Documents and information submitted under the Maryland Solicitations Act are also available, for the cost of postage and copies, from the Maryland Secretary of State, State House, Annapolis MD 21401, (410) 974-5534.
Art and Remembrance Inc. is a non-profit, educational and charitable organization organized under IRS section 501(c)(3). Your donation is tax deductible to the full extent permitted by law.
Questions?
Phone: 301.654.7286 |
Contact A&R